One of the most essential parts of your daily routine should be your skincare regime. 
Making time to regularly tend to your skin when you first wake up and before you go to bed is crucial to maintaining healthy skin; this also helps protect your skin from clogged pores and sun damage while promoting hydration and a natural glow. 
Whether your skincare routine only consists of washing your face in the shower or a more involved process, we've compiled some tips to help you perfect this part of your day.
4 Tips to Perfect Your Skin Care Routine
1. Know Your Skin Type
Understanding your skin type is the first step to having a good skincare regime and is essential to determine the best treatments and products for your unique skin. Skin types include normal, dry, oily, a combination, or sensitive.
Not sure what your skin type is? Below are a few easy steps on how to determine it.
Clean your face by removing any dirt, makeup, or skin care products and wait for one hour.

After an hour, your skin will have returned to its natural state. Assess the way your skin feels without any products or makeup.

Dry skin:

If your skin feels tight, rough, or flakey, you have dry skin. 

Oily skin:

If you notice any shine to your face, especially around the forehead, nose, or chin, you have oily skin. 

Combination skin:

If you notice any shine but also feel tight or rough, then you have combination skin. 

Normal skin:

If your skin feels comfortable and looks balanced, then you probably have normal skin. 

Sensitive skin:

If your skin feels tight or itchy and gets red easily, then you probably have sensitive skin.

Check your pores. Large pores are common for oily and combination skin, while smaller pores are typical for dry and normal skin.
2. Cleanse Properly
It may seem like a no-brainer, but correctly cleansing your face is one of the most important steps of a skin care routine that's often done incorrectly.
Before starting, make sure all makeup is removed.

Begin washing your face by using a gentle cleanser designed for your skin type.

A common mistake many people make is over cleansing. This can strip your face of its natural oils. Washing your face twice a day between 30 seconds and two minutes is a good middle ground to stay in.

Exfoliate your skin with a scrubbing agent such as microbeads, sugar, or a brush. This should only be done a few times a week depending on your skin type.

For dryer skin, exfoliate once a week.

For more oily skin, exfoliate two to three times a week.

For normal skin, exfoliate twice a week. 
3. Use The Right Products
Choosing products that align with your skin type is the best way to see results and target any concerns.
If you have dry skin, incorporating a daily moisturizer with hyaluronic acid can help stimulate hydration. If you have acne-prone skin, incorporating benzoyl peroxide can help minimize breakouts.
That said, no matter what your skin type is, you should always incorporate SPF into your routine; this is essential to protect your skin from sun damage which can cause dark spots and premature aging.
4. Establish a Consistent Routine
Regularly tending to your skin is the best way to see results and ensure it's always protected. Having a morning and night routine is recommended as it helps prep your skin for the day ahead and ensures it's clean when you go to bed.
Go Above and Beyond
From there, you can begin incorporating other things into your routine, such as fillers and Botox. This can help create fuller-looking skin, as well as stimulate collagen production. 
Neurotoxins, such as Botox, work to reduce and prevent wrinkles as well as create a smoother skin texture. Overall, neurotoxins are an excellent form of preventative skin care treatment that helps fight against the effects of aging skin.
Dermal fillers are best for restoring volume to the face which can reduce lines, wrinkles, and scarring. Certain fillers, such as hyaluronic acid-based ones, can also hydrate the skin. This is especially beneficial for those who experience dry skin.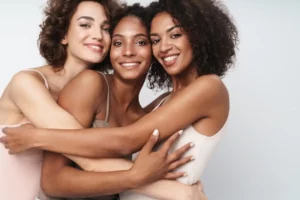 Here at Pretty Girl Aesthetics, our providers are specially trained in all things skin care. Have a question about your routine or interested in looking into anti-aging services such as fillers or Botox? 
Give us a call today or book your appointment!