PRP Injections for Hair Loss
Hair loss can be upsetting, stigmatizing, and an embarrassing issue. Both males and females suffer from baldness which is a genetic problem that can leave one feeling helpless. Various options to treat hair loss exist such as prescription drugs, topical therapies, light therapies, and vitamins. However, these treatment methods are partially effective and can carry the potential for unwanted side effects. On the other hand, surgical hair restoration techniques can be expensive and may have severe side effects.
Now there is an affordable way to improve thinning hair without undergoing surgery or taking medications with harmful side effects. Platelet-rich Plasma known as PRP can be injected into the scalp for hair thinning or loss. PRP for thinning hair is a proven procedure that works. Many of our clients have gotten PRP injections for hair loss with great results.
PRP (Platelet Rich Plasma) for thinning hair is for patients who want a natural method to fight hair loss. This therapy utilizes the stem cells and growth factors from the patient's blood to trigger the growth of hair from resting or miniaturized hair follicles and is administered as a PRP shot. The first step involves drawing the patient's blood into a specialized tube which is then placed in a centrifuge for 15 minutes. The centrifuge separates the platelets and the final product we get is plasma. The plasma obtained is set aside in a tube where gravity allows the platelets to drop out of suspension and collect at the bottom. This denser area of platelets in the plasma is called Platelet Rich Plasma (PRP). The end result is a PRP injection for hair growth.
At Pretty Girl Aesthetics, our certified and trained injectors performs PRP therapy. First, the area of concern is identified, evaluated, and measured. PRP is then injected into the scalp where the hair is thinning. That will require several injections. The process takes about 30 minutes to complete. The PRP contains growth factors and cytokines that stimulate and enhance hair follicle function for new hair growth. The platelets in the platelet-rich plasma promote healing and growth within the hair follicle. The goal of using the PRP hair restoration procedure is to stimulate inactive hair follicles for hair growth.
PRP injection for hair growth
At Pretty Girl Med Spa, we focus on two types of hair loss that patients experience, chronic hair loss (male and female pattern balding) and acute hair loss. Ideal patients are the ones who have areas of weak quality hair growth on the scalp, where functioning hair follicles can still be observed. PRP injections can make the biggest impact on these follicles. Existing follicles not only thicken in size but you get a lot more new growth of hair from the PRP procedure for thinning hair. We also offer our clients hair foam and vitamins to assist the PRP with more hair growth. We recommend that patients begin PRP treatment for thinning hair as soon as they suspect it is beginning to thin so we can help assist slow the process down.
PRP injection for thinning hair is a comfortable non-surgical hair restoration procedure with minimal discomfort. Patients typically notice a brief period of inflammation during which their scalp remains somewhat pink and feels some pressure or swelling for a few hours after the PRP hair shots. The results of PRP shots can typically be seen within three months, but it may take up to six to twelve months to see the full difference in hair density. After the procedure, patients will need PRP once every 6-12 months to maintain the results, and keep thinning hair away.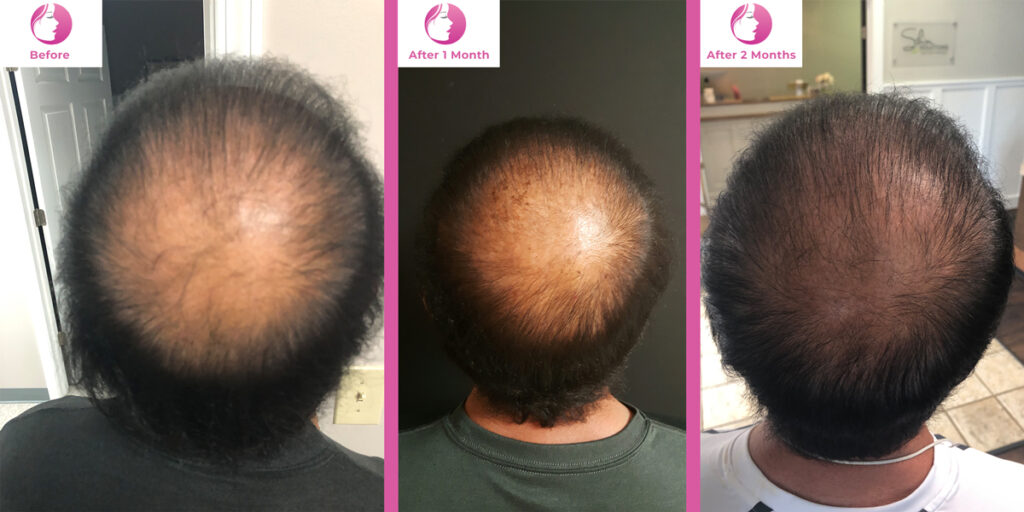 Am I A Candidate For PRP Hair Loss Treatment?
Book online for a free consultation and find out more about PRP injections for hair growth today.