Reduce the appearance of fine lines, acne scars, and other skin texture changes
With microneedling, our experienced staff can help improve your skin texture, repair skin issues, and build collagen.
Microneedling is a non-invasive procedure that utilizes microneedles to address minor skin concerns such as skin laxity, fine lines, wrinkles, and scarring, acne scarring, stretch marks, and skin discolorations. It creates a more youthful, refreshed complexion by making tiny punctures, or micro-injuries, in the skin that stimulates the body's natural healing process to begin generating an increased amount of collagen and elastin. The release of these properties aids in repairing the texture and resiliency of the skin. Schedule your microneedling treatment today.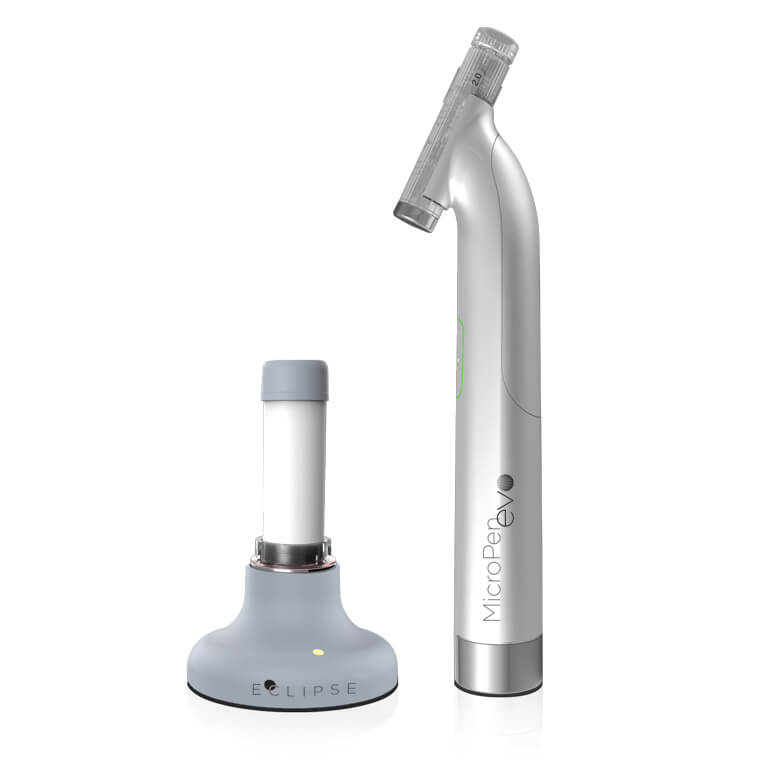 Microneedling Knoxville TN procedure is performed by our experienced staff in a safe and precise manner with the use of a sterile, disposable tip that allows effective treatment to hard-to-reach places such as around the eyes, nose, and lips. Before the procedure, a topical numbing cream is applied for your comfort and downtime is less than one week. Although the procedure can be done on its own, it is often combined with therapeutic medications or serums like PRP (platelet-rich plasma) to further enhance your treatment. The entire microneedling treatment is completed in less than an hour and results can be seen in as little as 3 to 4 days, but the best results are seen after a series of 3-4 treatments.
This treatment is great for all skin types and can be done at any time of the year. Contact us for a free consultation today.
Professional Microneedling with MicroPen EVO
At Pretty Girl Aesthetics our experienced and knowledgeable microneedling Knoxville experts use MicroPen EVO by Eclipse to perform the treatment. It is an FDA-approved and advanced medical-grade microneedling device with safe and precise needle depth adjustment to deliver exceptional results. It works by creating a series of hundreds of microscopic channels into the dermis to stimulate the skin's natural production of collagen and elastin, helping the skin to look and feel healthier. MicroPen EVO needles cycle at 100+ stamps/second, potentially creating 1600+ microchannels when the device is moved onto the skin. Patients experience little to no downtime and the treatment is safe for all skin types, light to dark. The procedure generally takes about 30 minutes to an hour and results depending on the size and number of areas treated. The results can be seen in as little as 3 to 4 days. Visit our Knoxville Med Spa for your microneedling treatment.
The day after your microneedling Knoxville treatment, you can cleanse your face and apply lotions, topical products, and makeup as usual, however, refrain from using exfoliants or glycolic acids as they dry out the skin. You will notice flaking, skin dryness, and shedding for 2-7 days following your treatment. This is normal and is due to an increased turnover of skin cells. You can buy the Pretty Girl Aesthetics line of post-procedure skin care products as they not only help with tissue repair but also help enhance the results of the microneedling Knoxville TN procedure. All our products are tested and safe to use on all skin. Specific instructions are given so you know exactly what to do when you leave with the treatment you have received.
Contact us today for a free consultation and see how we can help you.