Fine lines and wrinkles and skin laxity are two of the most common signs of aging. They are typically caused by diminishing collagen and elastin production and age-related volume loss.
A healthy lifestyle and a proper anti-aging skin care routine might help delay the aging process, but at some point, you're going to need a bit more help maintaining a more youthful appearance.
And for that, we have dermal fillers.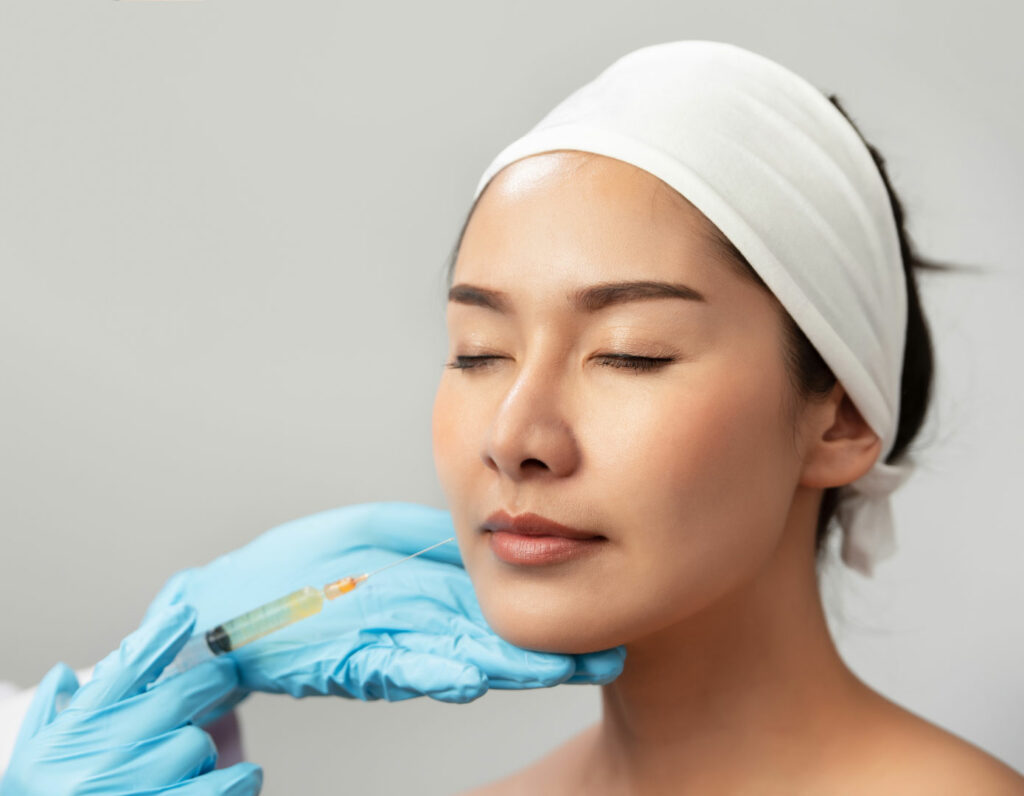 What Are Dermal Fillers?
Dermal fillers are soft gel injectables that are used to add or restore age-related volume loss and to help smooth deep static wrinkles. The injection itself is virtually painless, minimally invasive, and requires little to no downtime at all.
Common Dermal Fillers
The most popular dermal fillers are often made of a compound that naturally occurs in the human body- hyaluronic acid or HA. HA-based fillers are preferred over other fillers because:
They dissolve gradually over time and give a natural, youthful appearance to your skin.
They can be reversed using an enzyme hyaluronidase in case you're unhappy with your results.
They are more biocompatible and there is no risk of side effects.
Some of the most popular ones that we use include:
Revanesse® Lips™
Revanesse® Lips™ is a popular FDA-approved lip filler made of hyaluronic acid that doesn't just add plumpness to your lips, but also promotes collagen production. As a result, it promotes full, natural-looking results.
Revanesse® Versa™
Another commonly used and trademarked product of Revanesse® is Versa™. It is an FDA-approved dermal filler made of hyaluronic acid and can be used to reduce the appearance of moderate to severe facial wrinkles, such as nasolabial folds and tear troughs.
Both Revanesse® Lips™ and Revanesse® Versa™ are approved for use in individuals who are at least 22 years of age or older.

The unique formulation of Revanesse® products not only reduces the risk of swelling at the injection site, but also makes it last longer as compared to other HA fillers.
How Can Dermal Fillers Help Reduce The Signs Of Aging?
Dermal fillers can help improve the look and feel of aging skin in multiple ways, such as:
Adding volume to sunken cheeks
Filing in under-the-eye hollows, which can result in an older, gaunt-looking appearance
Helping smooth out the appearance of static facial wrinkles
Adding natural-looking fullness to thinning lips
Enhancing or restoring your natural facial contours, such as along your jawline
Improving the appearance of mild acne scars
To conclude, if you're looking to restore that youthful, natural-looking volume and make your skin look and feel smoother without going under the knife, dermal fillers are a great option.

However, you need to be mindful that only a well-trained injector can minimize the potential risks and help you achieve a natural look that doesn't look overdone. At Pretty Girl Aesthetics, Knoxville, TN, our highly-qualified and extensively experienced injectors have helped countless patients achieve youthful-looking, smoother, and beautiful-looking skin in no time.
Book a consultation now to know more about the dermal fillers best suited for your specific needs.